Tailgate Handle Backup Camera For Chevrolet Silverado / GMC Sierra(2007-2013)
Easily replace the factory tailgate handle, no need to drill holes.
100% Waterproof with an IP68 rating to withstand all weather conditions.
Install this camera can help you save money, and lives too.
SKU: VS482
Custom Backup Camera Fits 2007-2013 Chevrolet Silverado / GMC Sierra.
This backup camera system is exactly what you need when you want to upgrade your Chevrolet Silverado to include a camera in a discreet, and yet stylish way. The package comes with an OEM tailgate handle, which contains an in-built backup camera, just like a factory-fitted one would.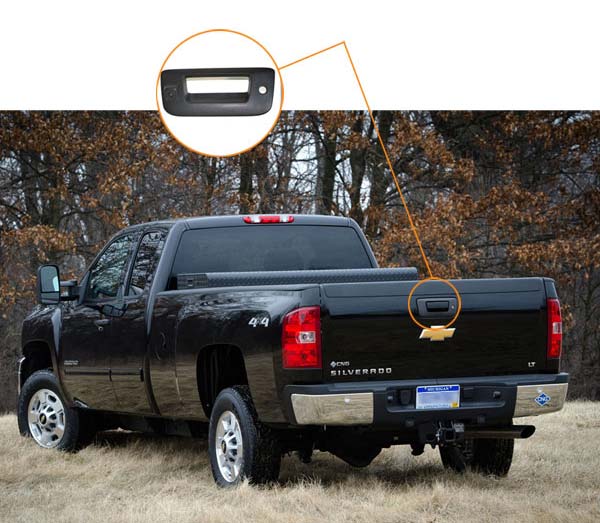 Use Top CCD Image Sensor.
Unlike other sellers that use cheap CMOS, however, our Chevrolet Silverado backup camera features CCD color sensor with night vision capability and a 600 TV lines, which means you can get great image quality. The color video is delivered through RCA connectors, and can be displayed by any monitor with standard video inputs.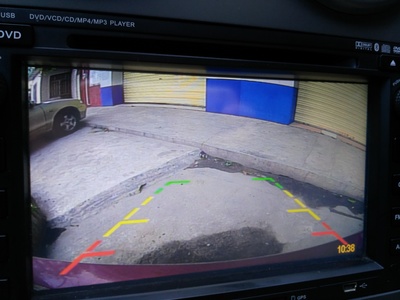 The night vision sensitivity is so good that the camera will work at even 0.5 Lux, a low light situation that is almost pitch black. This gives you as the driver, better chances of backing up safely at night, an activity which can be quite daunting with a large truck like Chevrolet Silverado .
This rear view camera features a waterproof IP68 rating, which means it is 100% waterproof.
Standard RCA Connectors for Quick Connection.
This Chevrolet Silverado backup camera uses RCA connector allowing you and your customers to connect it to in-dash Multimedia/DVD, GPS, radio and any screen with a RCA input. If you don't have a monitor option, you can buy a complete rear view camera system from us.
Also need a rear view monitor?
Click here to choose a monitor from us. You can add a clip-on rear view mirror monitor or a TFT LCD self stand monitor.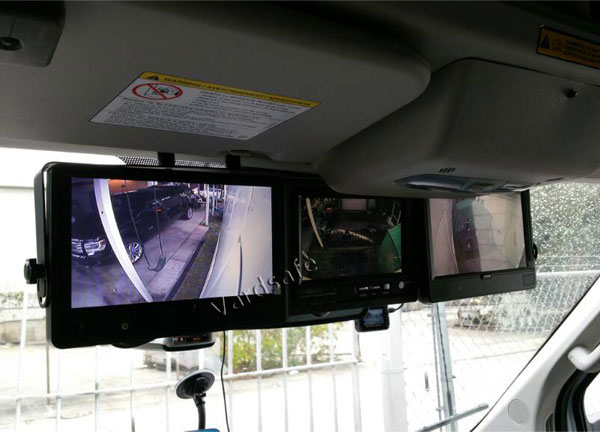 Specification:
Image sensor :CCD
Resolution :756(H) X 504(V)
TV line :600TV lines
TV System :PAL/NTSC
Waterproof rating :IP68
Lens :1.7mm
Viewing angle :170°
Power voltage :12V-24V
Operation Temp. :-20℃~+70℃
White Balance :Auto
In The Box
tailgate handle backup camera for Chevy Silverado / GMC Sierra
10 meters video extension cable
1.5 meter power supply cable
kit for installation
5 things you need to know about tailgate handle backup cameras
If you have been considering buying a tailgate handle backup camera, but you do not have enough information, and you would like to learn more about them, then following are 5 facts you should know.
1. They are Vehicle Specific
Vehicle specific tailgate handle backup camera systems are actually specific to certain vehicles.
This means that a system designed for one truck cannot fit into another truck.
The reason is because each auto-maker designs its pickup truck in a unique way, including the tailgate, and of course, the tailgate handle.
There are sometimes, even differences between different models of a particular truck brand.
Most tailgate handle backup cameras therefore have a specific pickup make and model years that it will match.
The camera systems are available for most popular trucks, but always check the model year, because most popular tucks keep changing almost every year.
2. They Look Cool
The beauty of installing a vehicle specific tailgate handle backup camera, is for this particular reason: They look cool.
Compared with the alternatives, which include number-plate cameras, or ugly looking cabin-roof mounted cameras, an OEM tailgate handle camera fits perfectly with the rest of the car.
It is not only mounted at the right height for a camera, it is also, so inconspicuous that the driver behind you won't even notice it.
3. Perfect OEM Color & Size Fit
Since tailgate handle cameras are designed to be vehicle specific, you can expect an OEM quality tailgate handle that looks exactly like the factory-fitted one.
The only difference between the two, will be the camera that is fitted into the new handle.
Not only are the shapes, corners and size exactly the same, the colors will also match, from black, to white, silver, gray e.t.c.
4. No Vehicle Modification Required
One good thing about tailgate handle backup cameras, is that there are no modifications to be made to the vehicle.
The tailgate handle camera system comes as a replacement for the factory-fitted tailgate handle, all you have to do is to remove the old handle, and install the new one.
The two are always alike, and will even use the same screws where needed.
This is much better than having to drill installation holes, or modifying the vehicle in any other way, just to install the backup camera.
In fact, for most truck models without a factory-fitted backup camera, individual vehicle components are usually found that aid in the easy installation of after-market backup camera systems.
This is especially true for trucks where tailgate handle cameras are an option during purchase.
5. Weather Proof
Since the cameras are designed to be in the car's exterior, they are also designed to properly withstand the elements.
Many will come with an IP67 rating, offering complete protection against rain, dust and all other effects of extreme weather conditions.
Not only are the camera and electronic components safe, the tailgate handle itself is usually OEM quality, and thus built to last.
Conclusion
As you can see from the above information about tailgate handle cameras, there is no better backup camera system for a pickup truck, than a tailgate handle camera system. If you are a truck owner, then it's probably time to stop comparing and considering, because a tailgate handle camera, is most probably what you need.
| | |
| --- | --- |
| Weight | 0.8 kg |
| Shipping | Free Economic Shipping, Fast Express Service |
---