Top 5 Truck Rear View Cameras In 2017
This multi-product review is based on the following top truck rear view cameras :
#1. VS824:120°automatic shutter truck rear view cameras with 12 infrared illuminators.
#2. VS802:The double RV backup camera with 30 infrared illuminators.
#3. VS803:130°Backup Camera with 18 infrared illuminators.
#4. VS801:Heated Backup Camera with 28 infrared illuminators.
#5. VS466:Backup Camera with 9 infrared illuminators.
When considering different products for purchase, it is therefore necessary to know the important features or attributes of the particular rear view camera.
These major features include:
– Price
All the five cameras in this rear view camera for truck and trailer review, lie in a price range between $69 and $129.
This price range is acceptable for a backup camera, although the more important issue to look out for are extra features.
Some extra features can be expensive, but if it serves your needs, then the camera's price should be worth it.
The number #3 camera, the 130 Backup Camera with 18 Infra-Red LEDs is the cheapest system at $69, while the #2 and the #4 cameras both cost $129.
– Video Resolution
Video resolution is another reference to the quality of any backup camera system.
In simple terms, more is better.
A higher resolution always produces better pictures on any monitor.
When we compare the video resolution of these backup cameras in TV-lines, camera #1 offers 480 TV-lines, while cameras #3 and #5 both offer 600 lines, with camera #4 topping the line with 700 TV-lines.
Based on simple video quality alone, camera #4 appears to be the best, but it is also one of the costliest cameras at $129.
– Night Vision
Night Vision capability is available in all five reverse cameras, but while camera #5 comes with just nine infra-red LEDs, camera #2 tops the list again with 30 infra-red LEDs.
The number of infra-red LEDs or IR-LEDs (Light Emitting Diodes) determines to a large extent, the quality of the camera video.
The IR-LEDs emit heat waves which although are invisible to human eyes, can be easily picked up by camera sensors as they bounce off of objects in the environment.
Rear view camera lenses can be sensitive to objects as far away as 60 ft. (18 meters) using this technology.
– Field of View
The field of view is a measure of how wide the backup camera can literally see, and the size of this angle is actually a result of the camera's lens.
All the five truck rear view cameras in this review have either 120°or 130°viewable angles, so no single camera excels better than the rest in this respect.
In theory, a camera can have a 180° field of view or even higher using a fish-eye lens, but the picture will be distorted at the very least.
One exception here is camera #2 which is a dual camera setup.
The dual rear view camera system allows you the freedom of monitoring more angles than are possible with a single camera.
– Operating Temperature Range
Cameras #1, #2, #3 and #5 are rated to operate between -40 and 133 .
Camera #4 comes with an integrated heater, which allows it to perform perfectly well in cold weather conditions as low as -49 .
This places camera #4 as the ultimate camera system for very cold regions or countries.
– Water Proofing
Water proofing of the backup camera system is equally important since they are electronic devices, and will immediately break down once wet on the inside.
All the five cameras in this review are waterproof and also dust-proof.
Cameras #3 and #4 even have the highest weatherproof rating, which is IP69K, and which guarantees against most adverse weather conditions, including high pressure water splashes.
– Extras
Most of the reverse cameras come with standard features, except for camera #2 and #4.
Camera #2 is a dual lens camera, which makes it possible to monitor a truck's rear in ways that are not possible with a single camera.
Cameras #3 and #4 come with a microphone, so that you can also hear what is happening behind.
As well as a light sensor, with which it adjusts the strength of the infra-red LEDs depending on how much light is available.
– Warranty
All these truck rear view cameras come with a 1 year warranty included.
A Closer Look at Each Product:
Camera #1-VS824:120°automatic shutter backup camera with 12 infrared illuminators.
This 120°rear view camera is a standard camera that can be easily and quickly installed on the back of your truck, RV or bus.
It is designed to be connected using wires to a monitor system of your choice.
One outstanding feature of this camera is its motorized shutter which automatically opens and closes when the camera is either turned ON or OFF.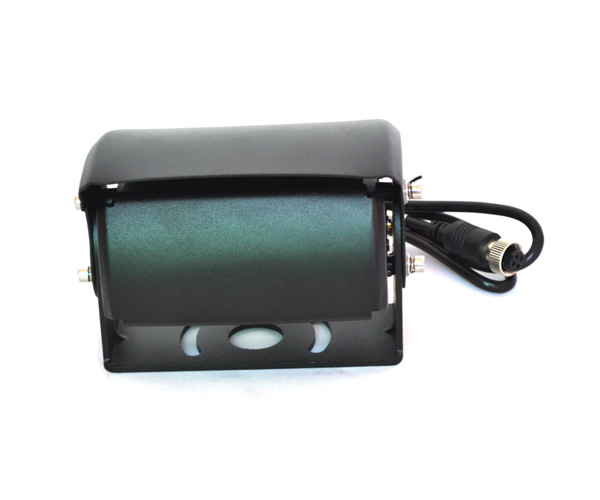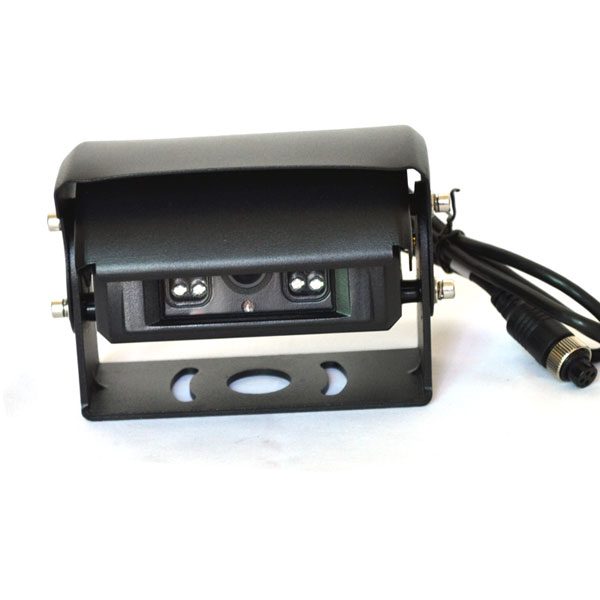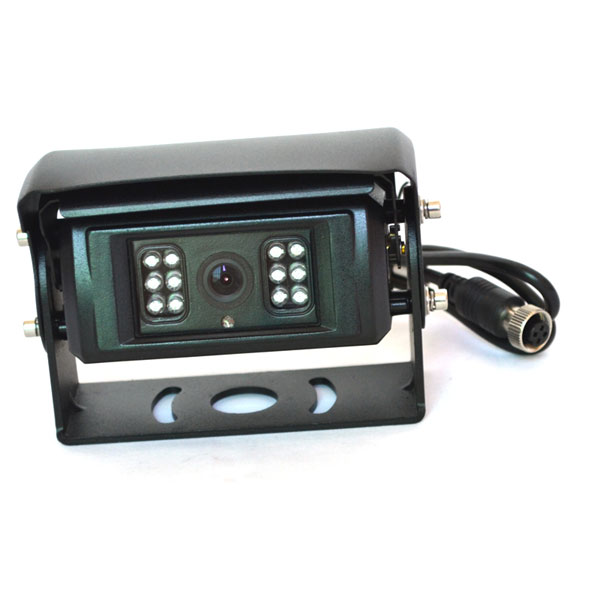 It also comes in a durable and weather proof casing that ensures its longevity and good service, with the casing protecting it from rocks, pebbles, wet storms and road bumps.
This truck rear view cameras also includes night vision capability.
Its CMOS lens is aided by 12 infra-red LEDs which beam enough infra-red rays at night for the camera to pick up objects as far as 60ft(18m) away.
It can be vertically adjusted up to 180, and although it offers 480 TV-lines, its 250 to 1 contrast ratio helps to produce high quality videos.
The camera pack comes with all the cables necessary for its installation, which is fast and uncomplicated.
Its power supply is also a simple 12 Volt DC,and the power cables are enclosed inside the camera's major cable.
Pros
– 120 view is wide enough.
– Automatic shutter that protects the lens when not in use.
– Affordable price.
Cons
– You need additionally to connect the green wire to the reverse lights to enable this shutter function.
Box Contents
120 Automatic Shutter Backup Camera
20 meters installation cable
Installation Screw-kit
RCA adaptor and wires
User's manual
Camera #2-VS802: The Double truck Backup Camera with Individually Adjustable Lenses
Camera number two has been specifically designed to solve a particular problem, and so it comes with two lenses.
A dual lens rear view camera can be quite useful for truck drivers and others with trailers as well.
Each of the two lenses are adjustable, so one lens can be used to monitor a trailer's hitch, while the second monitor can be used to monitor oncoming traffic.
The system is also helpful for backing up.
You can either monitor your video feed using a monitor that switches between camera-1 and camera-2, or you can use a quad monitor system to view both video feeds at once.
The casing has also been built using the toughest of materials, and is thus weatherproof and guaranteed to last a long while.
The military grade night vision ensures that you get high quality videos at night.
This system will also work while you are reversing and it offers the option of displaying mirrored images.
It delivers high quality images with 600 TV-lines, with a contrast ratio of 250 to 1.
Each backup camera can be vertically adjusted up to 180 and its infra-red LEDs provide enough night illumination for up to 60ft. (18m) of clear videos.
Each of the lenses additionally has its own yellow RCA video output and a red power connector in the back for easy installation.
Pros of The Double Backup Camera
– Enables different views to be monitored at once.
– Each individual lens can be vertically adjusted up to 180.
– Offers Mirrored Imaging
Cons
– The price is the highest among these 5 cameras , but when considered to be the price of two cameras, it immediately becomes attractive.
Box Contents
Double Backup Cameras
2x 20 meters Installation Cable
2x RCA adaptor and wires
Installation Screw-kit
User's Manual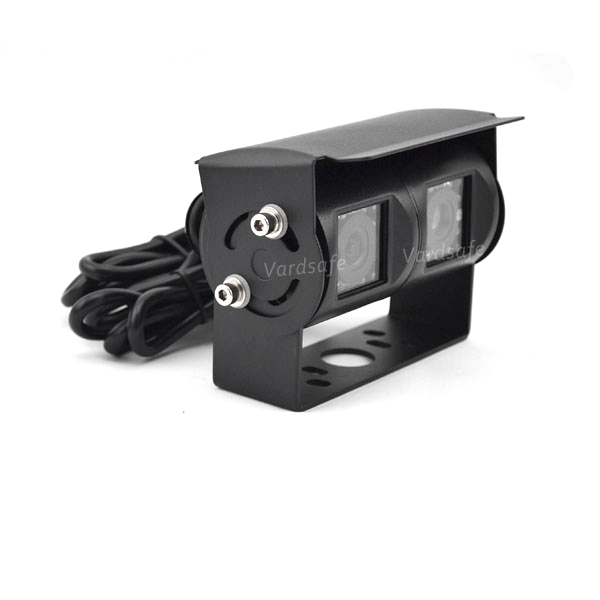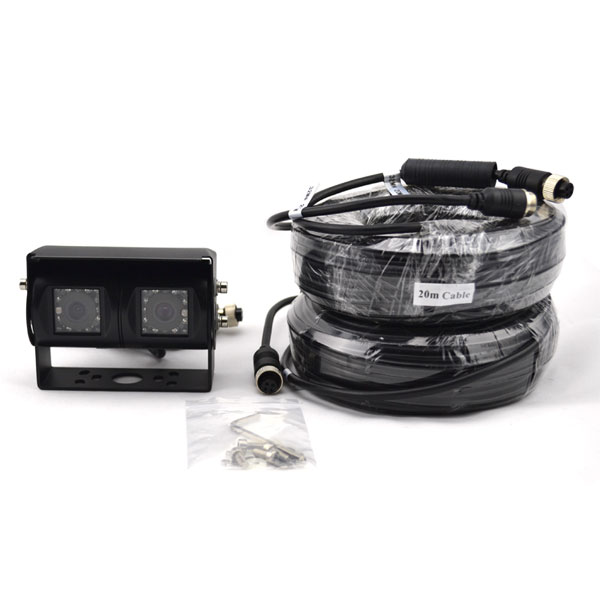 Camera #3-VS803: 130°Backup Camera with 18 Infra-Red LEDs.
Camera #3 is the lowest priced camera in this review, costing just $69.
Although cheaper than the other truck rear view cameras, this one comes with lots of good features, including a 130 viewing angle, 18 infra-red LEDs, which enable clear visions of up to 50 ft.at night, and an adjustable sunshade.
This particular camera is a perfect security enhancement for all drivers who need an entry level back up camera in their trucks or buses, without having to spend too much money for it.
For its price, it's also a high quality product and offers therefore good value for your money.
With 600 TV-lines, you will have a good and clear overview of the backside of your automobile, including at nighttime, using infra-red.
The 18 infra-red LEDs produce enough illumination for crisp-clear vision at night.
This system also has an IP68 rating, which means it can weather most severe weather conditions, like withstanding high velocity stones, high pressure water and jolts of all kinds.
It also has a built-in microphone, so you can hear what you are seeing, and an automatic iris-sensor, which helps to adjust the intensity of the infra-red beams based on how bright the day is.
Pros of The 130°Backup Camera with 18 Infra-Red LEDs.
– has an adjustable sunshade.
– comes with a built-in microphone.
– It has an IP68 weather-proof rating.
– is affordable.
Cons
– this is one of the most common truck rear view cameras on the market.
Box Contents:
CCD Weatherproof and Infra-red Camera
20 meters extension cable
RCA adaptor and wires
Installation Screw Kit
User's Manual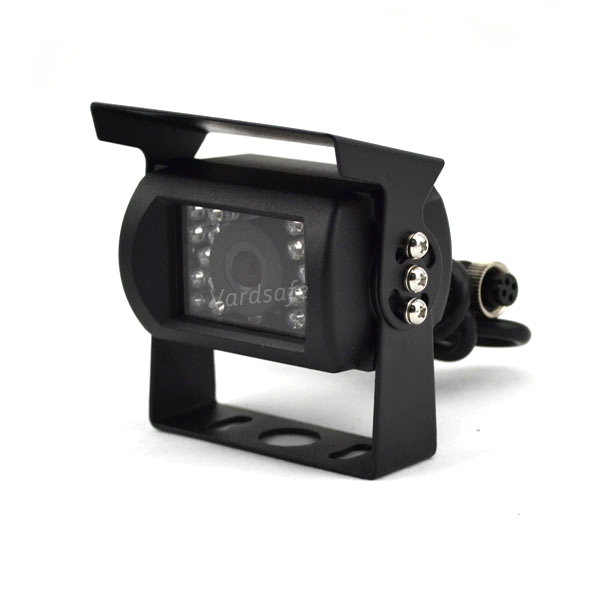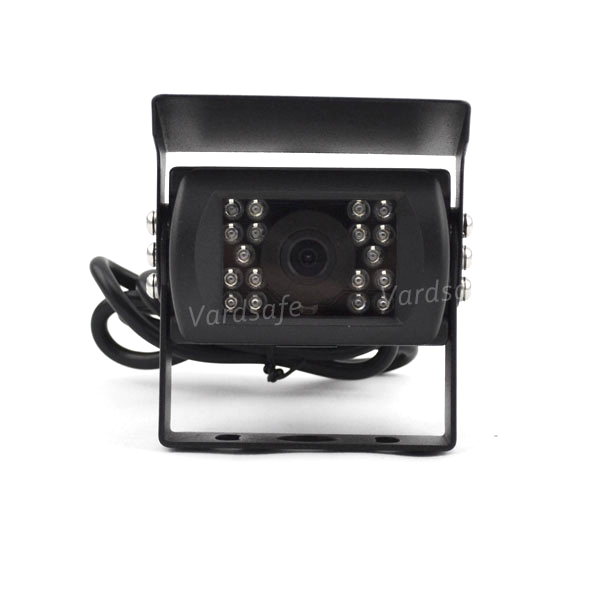 Camera #4-VS801: 120° Heated Backup Camera with 28 Infra-Red LEDs.
This is another specialized backup camera, and it was specifically devised for any driver that has to deal with extremely cold weather.
Offering the possibility to continue functioning down to temperatures of -49°C.
This camera can turn out to be a life-saver in areas of the world where extreme cold, including cold-storms usually
threaten the safety of large automobiles on the road.
The heater prevents the buildup of ice or snow flakes over the camera lens, and the IP68 rating of the system guarantees a long and trouble-free product life.
There are a total of 28 infra-red LEDs, which provide optimum illumination for the camera at night, even in the coldest of temperatures.
It also features a built-in microphone for hearing what you are seeing behind you.
An automatic sensor for regulating the intensity of the infra-red beams, based on daylight intensity, and 700 TV-lines to provide crispy-clear visuals on your monitor.
Its 1/3 inch imaging chip is a Super HAD CCD chip from SONY?, which renders its high quality images with a 120 viewing angle.
The video stream can either be viewed in NTSC or PAL capable monitors, and the whole unit consumes a maximum of just 300 Milliamperes of current, at 12/24 Volts.
Pros of The 120 Cold Weather Heated Backup Camera
– features a heater and so, can function at low temperatures down to -49°C.
– It is IP68 rated.
– comes with 28 infra-red LEDs.
Cons
– It's a bit pricey.
Box Contents
Heated Color Camera with 28 Infra-red LEDs
20 meters extension cable
Installation Screw Kit
RCA Adapter and Wire
User's Manual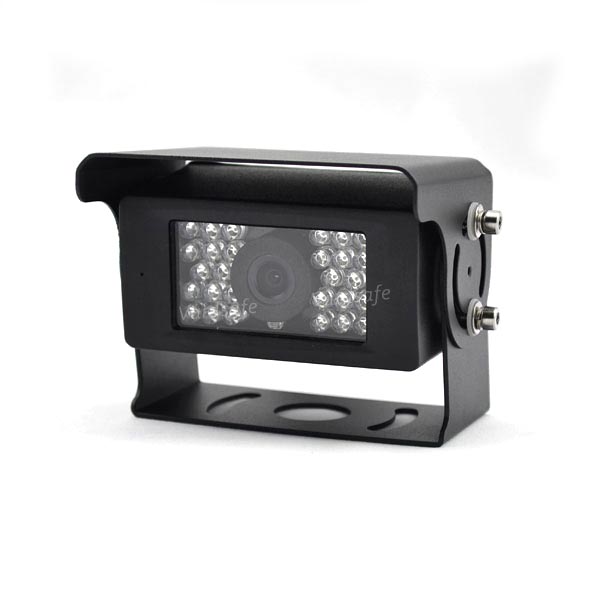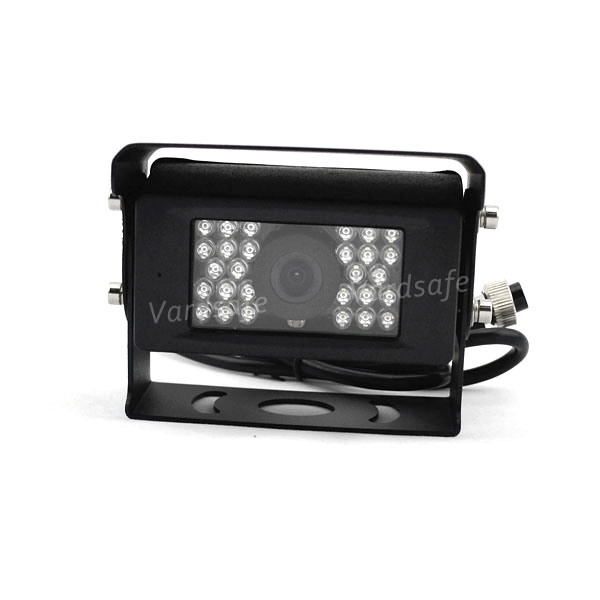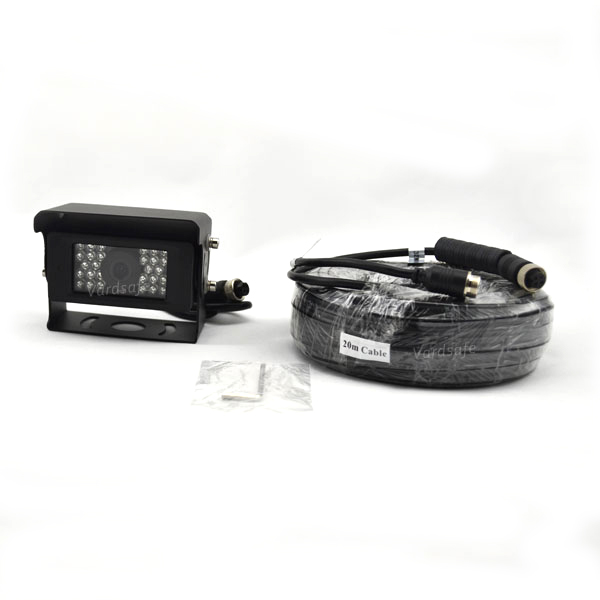 Camera #5: 120°Backup Camera with 9 Infra-red LEDs.
The fifth product in this review comes with 9 infra-red LEDs, a 120 viewing angle and an adjustable sunshade.
Both the sunshade and the rest of the camera's casing is built using a heavy duty zinc alloy for the safety of the internal components.
It has an Ingress Protection (IP) rating of IP68, which means it is dust proof, and can as well withstand being submerged in water.
It also has a 20 G vibration rating, enough to withstand much of the rattlings and shocks of being attached to a truck, for instance.
Its imaging chip, which is a 1/3 inch Sharp CCD sensor delivers 600 TV-lines of video imagery.
This video is available both as NTSC or as PAL video encoding.
The video stream is of good quality, even at night, with up to 50 ft. of visibility using infra-red.
The camera also uses 12 Volts of electricity to run, and comes with an RCA connector.
Pros of The 120°Backup Camera with 9 Infra-red LEDs.
– Made from heavy duty Zinc alloy for maximum protection of internal components.
– Delivers 600 TV-lines of clear video imagery.
– Comes with an adjustable sunshade.
Cons
– Compact size, not suitable for very big vehicles.
Box Contents
130 Backup Camera with 9 Infra-red LEDs.
20 meters extension cable.
RCA Adapter and Wire.
Installation Screw Kit.
User's Manual.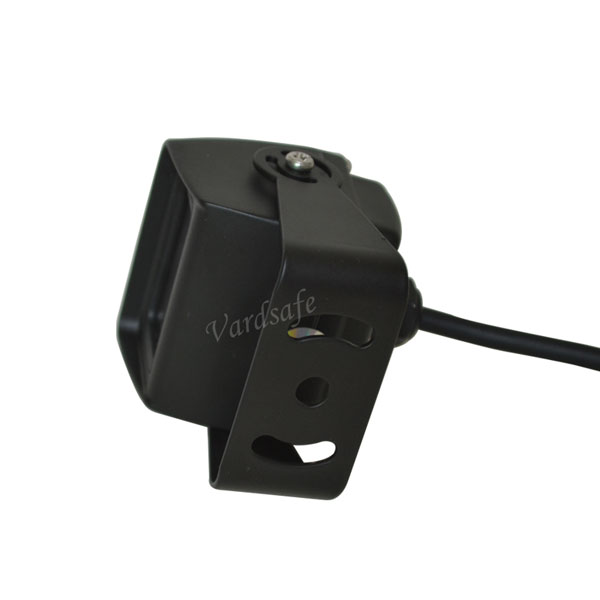 The Verdict
It's a fact that the use of truck rear view cameras and other large automobiles, increases the overall safety of the vehicle.
Buying and installing the camera kit becomes a responsibility for you, although you will have to make the final product choice by yourself.
This choice depends on your specific needs. So if for example, you drive in a very cold region, then you simply need camera #4.
If you often hitch a trailer, then camera #2 should be ideal for you.
Else, if you just need a cost-effective truck rear view cameras for your truck, then camera #3 should do.
Important Product Features for This Review
The goal of the rear view camera for trucks and other large automobiles is to improve safety during backups, as well as other periods when a good view of the back of the truck, bus or RV is necessary for safety purposes.
Because an understanding of these differences will help you to purchase the right camera system.