Top 10 Frequently Asked Questions about Our Backup Cameras
Many of our customers have had one question or the other, concerning our backup camera systems. Following are the 10 most frequently asked of these questions. They should hopefully answer any questions that you may have.
1. Can I install the camera by myself?
Yes, you can install our backup camera systems by yourself. You just have to understand 12Volt systems, and have the necessary tools for the installation. This basically means a tester for your car's wiring, because other necessary installation tools are supplied with the camera's package. Installing a wireless backup camera system should take you about 20 minutes or less, while a wired system takes much longer.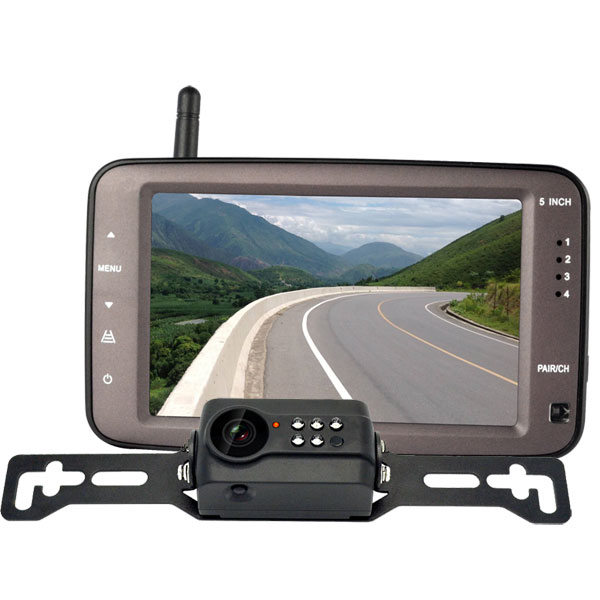 2. Will your cameras work on any vehicle?
Yes, our camera systems work on all types of vehicles, except when otherwise stated. These exceptions include cameras that are specifically designed for specific vehicles, for example, tailgate cameras for specific trucks. Flush-mount, bumper and license-plate cameras on the other hand, can be fitted on any kind of vehicle.
Whether you have a sedan, SUV, minivan, pickup-truck or any kind of commercial vehicle, you can rest assured that our backup camera system will get the job done.
3. Does your backup camera system work well at night?
Yes, our backup cameras deliver very clear images at night. They feature infra-red LEDs, which illuminate the dark space behind your vehicle with infra-red radiation, which are invisible to the human eye. The cameras' lenses pick up these heat-signature radiations and process them into visible images. All our cameras feature infra-red night vision, unless where otherwise stated.
4. Does the backup camera come with a warranty?
Yes, we back all our products with a 1-year warranty. This guarantees that the camera or camera system, will be free from all workmanship and material defects for one year. It should be noted though, that this warranty does not cover defects which may arise from misuse, mishandling or improper installation of the product. Backup cameras are meant to help drivers worldwide to drive more safely, and we guarantee that our systems will work as promised.
5. Will a backup camera installation void my vehicle's warranty?
No, a backup camera installation will not void your car's manufacturer warranty. It is illegal for any car dealer to deny your vehicle a warranty coverage, because of an aftermarket accessory installation like a backup camera. An exception to this rule, is a case where an aftermarket accessory was improperly installed, and it caused damage to a part of the vehicle under warranty. So make sure your backup camera system is properly installed, and you won't have any issues.
6. Does your system start automatically or manually?
The choice is left for you. Our camera systems can be wired to either start-up once the reverse gear has been engaged, or they can be wired to be switched on by the driver. The system can even be installed to always 'stay on'. Our backup cameras allow you the flexibility of choosing what you want.
7. Does your backup system offer distance lines?
Yes, most of our monitors offer a distance grid-line feature. The option is not always on, and can be switched on and off at will. In addition to these lines, some of our systems also offer audio capabilities. With a microphone integrated in the camera, and a speaker in the monitor, you can both see exactly what is behind you, and also take vocal cues from an assistant. These 2 features are designed to make your driving even safer.
8. Can I use your camera for backing up a trailer?
Yes, our systems are perfect as a backup help for trailers and other large vehicles. We have both wireless and wired systems, specifically designed for trailers. You can also have a camera installed between the towing vehicle and the trailer, and use it to monitor the hitch. Other trailer-towers even leave their backup cameras constantly on behind the trailer, and use it to monitor oncoming traffic.
9. Will your camera work with my car's navigation system / head-unit?
We have both wired and wireless backup cameras. If your car's head-unit accepts RCA video connectors, then it will work with our wired cameras. If it features a wireless video reception capacity, then it will work with our wireless cameras. We also offer WiFi cameras, which are deigned to wirelessly transmit video to smartphones and other WiFi-enabled devices.
10. Is an instruction manual included?
Yes, we always include a user guide in every package that we ship.
More Questions?
The above questions are the most frequently asked questions, concerning our backup video products. You might possibly have a different question, which is not listed above. In such a case, please do not hesitate to contact us. We will gladly assist you.