Car Wireless License Plate Backup Camera System
It's guaranteed wireless range for up to 60ft.
100% Waterproof with an IP68 rating to withstand all weather conditions.
Wide 120° angle to get better rear visibility
Install this camera can help you save money,and lives too.
SKU: VS743
Kind reminder: this wireless camera system features better price, but transmits on the analog 2.4GHz frequency, which means it may be subject to interference. Our digital wireless backup camera systems won't have these issues.
The car wireless backup camera system comes with a 4.3 inch wireless rear view monitor and a wireless backup camera, a cigarette lighter adaptor, and a set of accessories and manual.
The monitor features a powerful suction cup for a easy windshield attachment, which means monitor will not take up space on your dash.
This backup camera system comes with a license plate camera, that easily attach it to license plate frame and don't need to drill holes to complete installation.
The car wireless backup camera system using a CCD lens provides a resolution of 600 TV lines, this 3.4 inch TFT LCD monitor has a resolution of 800 X 3 (RGB) X 480, which means you can get great image quality.
This camera built with IP68 rating,which make it 100% waterproof.
Study shows more and more drivers install rear view cameras avoided backing over a stationary object when they weren't looking. Backup accidents involving a small child inadvertently hurt or killed by a family member happen all too frequently.Install this wireless rear view camera system to get better rear view visibility and help you save money,and lives too.
Camera Specification:
Image sensor :CCD
TV line :600TV lines
TV System :PAL/NTSC
Waterproof rating :IP68
Condition :New
Min illumination :0.5Lux
Viewing angle :120°
Power voltage :DC12V-24V
Operation Temp. :-20℃~+70℃
White Balance :Auto
Monitor Specification:
Monitor size :4.3 inch
Resolution :800 X 3 (RGB) X 480
Contrast :16:9
TV System :PAL/NTSC
Monitor weight :500g
Video input : 2 channels
Power  :DC12V-24V
Brightness :400cd/㎡
In The Box
4.3 inch wireless LCD color monitor
wireless license plate backup camera
cigarette lighter adaptor
installation kit
Frequently Asked Questions:
1. How to wire it ?
Very easy for wiring. The 4.3 inch wireless rear view monitor plug into cigarette lighter and backup camera mounts onto the rear license plate frame with existing screws and red wire of camera goes to 12V/24V power source(usually reverse lights), black wire for ground.
2. Can this car wireless backup camera system install on my vehicle ?
This is not a vehicle specific reverse camera system, and it can be installed on most cars and trucks.
3. What is the wireless range ?
It offers a wireless range up to 15 meters.
4. Is this wireless license plate camera waterproof ?
Yes, it is completely waterproof with a IP68 rating.
5. Can the camera be adjustable to see a trailer hitch ?
Yes, this license plate backup camera can be adjustable vertically.
Why shop with us:
100% secure payment with PayPal's Online Purchase Protection Program
No matter you pay with credit cards or PayPal , your payment is processed and covered by PayPal's Online Purchase Protection Program.For more protection information, please visit PayPal's official site.
We manufacture our own rear view camera systems
Unlike other resellers that sell many different products, however, we have been specializing in backup camera systems for 8 years and well experienced and know every detail of our cameras, which makes us stand out to provide better price and better products.
Fast delivery
Want to receive your order quickly? Choose our fast express service and you will receive what you ordered in 3 to 7 days.
You may be also interested in our other digital wireless backup camera systems: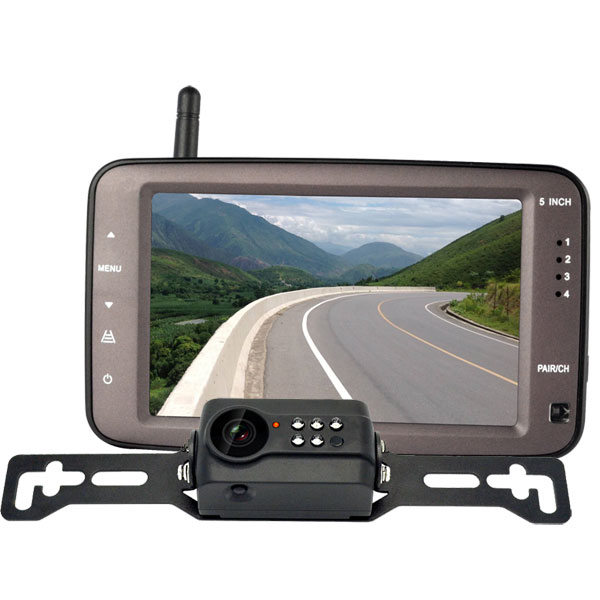 | | |
| --- | --- |
| Weight | 1.2 kg |
| Shipping | Free Economic Shipping, Fast Express Service |
---