Digital Wireless Backup Camera System With 2 Cameras
Uses a digital 2.4GHz signal that is protected against interference.
It's guaranteed connection for up to 70ft.
Get monitor quick installed by a cigarette lighter adaptor.
100% Waterproof with an IP68 rating to withstand all weather conditions.
Install this camera can help you save money,and lives too.
SKU: VS796T
This digital wireless backup camera system features 2 heavy duty backup cameras and uses a digital 2.4GHz signal that is specific to its transmitter and receiver, that means it's protected against interference.
No need to run cable from the camera to monitor, it's guaranteed connection for up to 70ft. Perfect for Fifth Wheel / horse trailer / travel trailer / RV and other commercial vehicles.


The monitor comes with a cigarette lighter adaptor,you just need to put it into your vehicle cigarette lighter port to get monitor installed instantly.
The monitor attaches to your windshield with a very strong suction cup and without taking up space on your dash.
The digital wireless backup camera system using a CCD lens provides a resolution of 480 TV lines,the 5 inch LCD monitor has a resolution of 800 X 3 (RGB) X 480,which means you can get great image quality.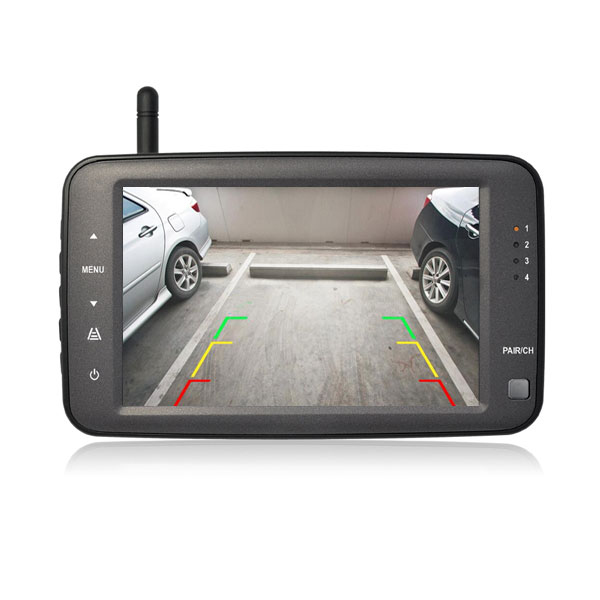 12 infrared lights designed into camera body,which auto activates at night to provide vision even in the total dark night.
This wireless reverse camera built with IP68 rating, which make it 100% waterproof.
Study shows more and more drivers install rear view cameras avoided backing over a stationary object when they weren't looking.Backup accidents involving a small child inadvertently hurt or killed by a family member happen all too frequently. Install this digital wireless backup camera system to get better rear view visibility and help you save money,and lives too.
Camera Specification:
Image sensor :CCD
TV line :480TV lines
TV System :PAL/NTSC
Waterproof rating :IP68
Lens :2.5mm
Min illumination :0Lux (LED ON)
IR led :12pcs
Viewing angle :120°
Power voltage :DC12V-24V
Operation Temp. :-20℃~+70℃
White Balance :Auto
Monitor Specification:
Monitor size :5 inch
Resolution :800 X 3 (RGB) X 480
Contrast :16:9
TV System :PAL/NTSC
Monitor weight :500g
Video input : 4 channels
Power  :DC12V-24V
Brightness :400cd/㎡
In The Box
5 inch wireless LCD color monitor
2 wireless Backup Cameras
cigarette lighter adaptor
installation kit
Frequently Asked Questions:
1. How to wire it ?
Very easy for wiring. The wireless rear view monitor plug into cigarette lighter for a quick install and red wire of camera goes to 12V/24V power source(usually reverse lights), black wire for ground.
2. Can this wireless backup camera system install on my vehicle ?
The digital wireless reversing camera system is perfect for RV, truck, trailer, fifth wheel, motorhome and other commercial vehicles.
3. What is the wireless range ?
It offers a wireless range up to 20 meters.
4. Is this wireless camera waterproof ?
Yes, it is completely waterproof with a IP68 rating.
5. What does a digital wireless camera system mean ?
The wireless signal is specific to its transmitter and receiver, that means it's protected against interference.
6. Can I add a third camera to this system for additional views ?
Yes, you can add up to 4 cameras and USD99 for each additional camera.
7. Does it have grid line(guide line) ?
You can press the grid line button on the left of monitor to enable the line.
Why shop with us:
100% secure payment with PayPal's Online Purchase Protection Program
No matter you pay with credit cards or PayPal , your payment is processed and covered by PayPal's Online Purchase Protection Program.For more protection information, please visit PayPal's official site.
We manufacture our own rear view camera systems
Unlike other resellers that sell many different products, however, we have been specializing in backup camera systems for 8 years and well experienced and know every detail of our cameras, which makes us stand out to provide better price and better products.
Fast delivery
Want to receive your order quickly? Choose our fast express service and you will receive what you ordered in 3 to 7 days.
14 Things You Need To Know About Wireless Backup Camera Systems
1. What are wireless backup cameras exactly? Technically speaking?
If you should look at the wireless backup camera from a technical point of view, then it is simply a camera with a transmitter circuit, which takes the visual information that the camera's lens is picking up, and modulates it into radio waves.
These waves can then travel for a certain distance, before getting picked up by a receiver.
A receiver is equally any electronic device that can pickup the information being broadcast by the transmitting device.
A receiver is simply made up of a resonant circuit, whose resonant frequency must be set to that of the transmitter.
The information is picked up, amplified, and then turned back into video data.
When this video data is viewed using the vehicle's on-board monitor, we then see the video from the backup camera.
2. How Wireless backup Cameras Transmit?
Waves can be modulated at any time, either intelligently or not.
In order to successfully transmit useful video data, the wireless backup camera device will have to adhere to certain industry standards.
Such standards include video encoding formats such as VGA, PAL or SECAM.
Other standards to be followed are those which deal with wireless protocols.
These are for example Frequency Modulation and Amplitude Modulation, as well as WiFi protocols like the IEEE 802.11b or IEEE 802.11g.
It is only by making use of these protocols and formats during transmission, that another device can be said to be compatible with the transmitter.
There are also frequency bands that have been designated for such applications, like 900Mhz and 2.4Ghz.
There are video resolutions like 720p (HD), 1080p (Full HD) and 1440p (Quad HD) as well.
So long as a wireless backup camera works and transmits data based on these standards and protocols, any other standards-compliant monitor will be able to capture and display the video feed.
3. Types of Wireless Backup Camera Systems
There are two types of wireless backup camera systems. They are the analog and the digital wireless backup camera system.
Analog systems are an older form of electronics, which simply have a continuously variable signal.
This signal is then encoded and used to modulate the airwaves, and therefore gets transmitted thereby.
This is in contrast to digital systems, which either have a positive or a negative bit.
Analog transmitters have been used successfully for a long while, but they have their limitations.
These include their inability to successfully transmit data as far away as digital transmitters.
Due to the design of analog transmission systems and the standards that analog electronic systems have to comply with, there are also resolution and video quality limitations to be found in wireless analog transmissions.
Furthermore, analog systems are more prone to signal interference than digital systems.
This is because an analog signal is a continuous wave at a given frequency, that is modulated with data, while a digital system is made up of individual pulses, with each pulse representing a bit.
The bit-pulses of a digital backup camera are easier to recognize than the fine modulations of an analog system.
This makes analog transmissions less far reaching than a digital transmission.
4. The Wireless Range
Wireless backup camera systems typically have a range of about 100 feet.
This range is enough for most applications, considering that the majority of vehicles and trailers do not exceed 40 feet.
The best positioning of a wireless transmitter and the receiver, is in a clear line-of-sight arrangement.
If you experience a weak signal reception for any reason, then you should check to see that there are not too many factors limiting the transmitter's range.
The possible culprits include reflections, scattering, attenuation, diffractions and refractions.
In order to improve the range or signal quality, you have to make sure that there are as little reflective surfaces as possible, which may block the receiver's clear line-of-sight of the transmitter.
You also have to check for irregular surfaces, which may cause the signal to scatter.
The third signal strength limiter is diffraction, which occurs as a result of the signal changing direction as it passes through glass.
Attenuation is caused by a weakening of the signal strength as it passes through a material object, so make sure that there are as little solid surfaces as possible, blocking the receiver from the transmitter.
5. Signal Quality and Interference
There is no huge, noticeable difference between the signal qualities of a wireless backup camera system, and that of a wired system.
All things being equal, both systems will display equally good images, with the wireless system being prone to occasional interference. This top rated digital wireless backup camera system won't have these issue.
6. Ease of Installation
The beauty of wireless backup cameras lies in their ease of installation.
Wired cameras can sometimes be a challenge to install. Depending on the type of vehicle, you may need to run wires either underneath or inside the vehicle.
From pickup-trucks to recreational vehicles and other trailers, there is no single or universal method of installing a wired backup camera.
This makes every new installation a potential uphill-task.
With a wireless backup camera, there is no need to run wires.
In fact, installation is as simple as fixing the camera behind the vehicle, and then turning on the wireless receiver, and that's it.
Different vehicles have different power-lines in different locations, you just have to find out what your vehicles offers, and make the best out of it.
7. Video Resolution and Picture Quality
Resolution refers to the amount of pixels both picked up by the camera, as well as displayed by the monitor.
This determines how crispy clear the image will appear, as well as how much information can be picked up easily from the monitor.
The resolution begins with the camera's sensor. If the sensor cannot deliver high resolution images, then the rest of the system will suffer.
The transmitter module, the receiver and the display module must also be able to individually handle the current video resolution level.
Click here to learn more…
| | |
| --- | --- |
| Weight | 2.5 kg |
| Shipping | Free Economic Shipping, Fast Express Service |
---