Dual Lens Backup Camera Perfect for Monitoring Hitches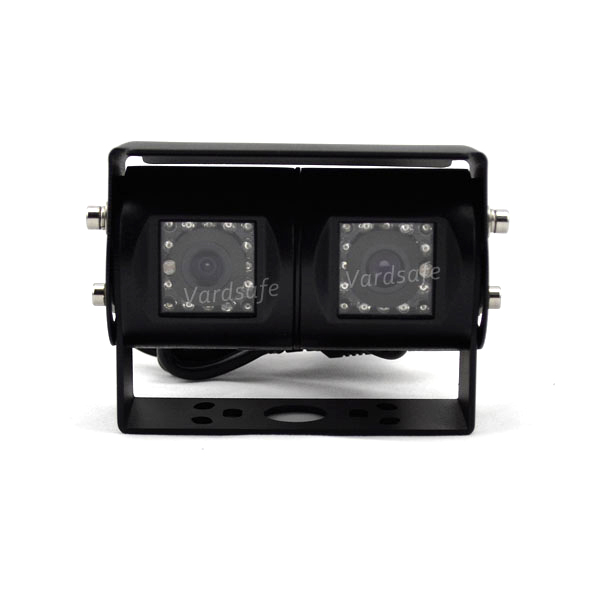 Dual lens backup camera is essential security accessories for your vehicle, especially when you have an RV, bus or truck with a trailer. When you drive with a trailer, then you want to make sure that your hitch is intact, as well as to be able to see the road behind you. You will also need some visual aid in order to backup properly.
These are the three main security concerns that can be easily addressed with a dual lens backup camera.
The dual lens backup camera is basically two cameras in one. You can tilt one of the cameras downwards, and use it to monitor your hitch. The second camera can then be used to monitor traffic on the road behind you, as well as being used for guidance when backing up. As efficient and effective as this dual lens backup camera is in reducing security challenges, it also comes with a lot more impressive features.
Features of the Dual lens backup Camera Device
– Dual Camera Setup
The dual camera setup allows you to monitor the safety of your hitch, while allowing you to get a better view of the traffic behind your trailer, with the second camera. This double camera feature solves the three major problems that RV, truck and bus drivers with a trailer have:
1. Monitoring your hitch.
2. Monitoring the road behind your trailer for oncoming vehicles.
3. Visual aid for backing up.
– Weatherproof Casing
The device comes in a rugged and weatherproof casing, able to withstand the effects of the sun and rain. It is also impact and shock resistant, being made from die-cast aluminum.
– High Definition Color CCD Camera
The cameras are made using high high definition CCD chips. They also have a wide camera angle of 120, which brings in more of the viewable space into the picture for you.
– Night Vision
Apart from the standard high definition color capture, the cameras also feature infrared LEDs, which makes them able to function as night vision cameras with high clarity.
– Wireless Or Wired
Each camera has a yellow and a red RCA video plug. The yellow plug is for the video feed, while the red plug is the power input. You can choose to either connect the power and video feed of the cameras using cables, or to use battery power and then transmit the video wirelessly. The choice is yours.
Technical Specifications
Camera resolution: 600 TV lines
Minimum illumination: 0.2 Lux
Housing material: Die-cast Aluminum
Power consumption: 12 Volt DC
Number of night vision LEDs: 30
Night vision distance: 60 feet (18 meters)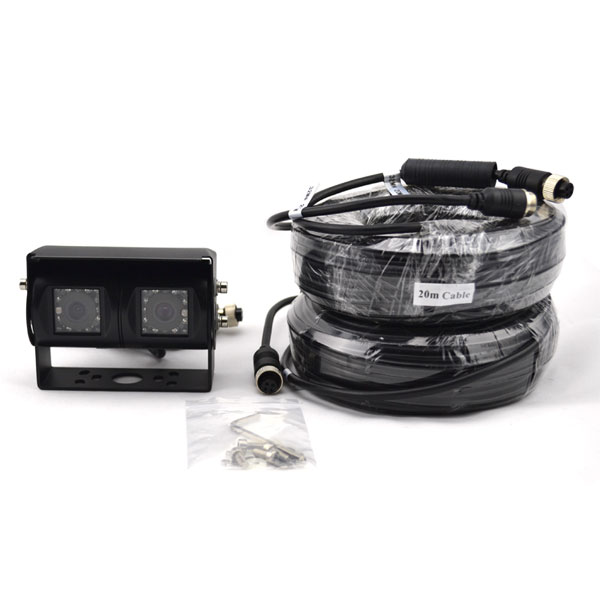 Conclusion
You can solve your driving security problems easily, with this double lens backup camera. The installation is simple and straightforward, and no modification of your vehicle is necessary. The device itself is rugged and built to last, and will withstand rain, heat from the sun, dust and even stones. There should be absolutely no deliberation whatsoever, about the issue. If you intend to drive around with a trailer / 5th wheel, then you need this dual lens backup camera.