Tailgate Handle Backup Cameras for Ford, Toyota, Dodge & Chevrolet Pickup Trucks
This Multi-product review focuses on the following tailgate backup cameras:
1. Ford F150 Tailgate Handle Backup Camera(Product Model: VS150).
2. Toyota Tundra Tailgate Handle Backup Camera(Product Model: VS435).
3. Dodge Ram Tailgate Backup Camera(Product Model: VS452).
4. Chevrolet Silverado Tailgate Handle Backup Camera(Product Model: VS457).
The package comes with an OEM Ford tailgate handle, which contains an in-built backup camera, just like a factory-fitted one would.
This handle not only fits the F-150 tailgate, but will as well fit the Ford F-250, F-350, F-450 and F-550 truck models' tailgates.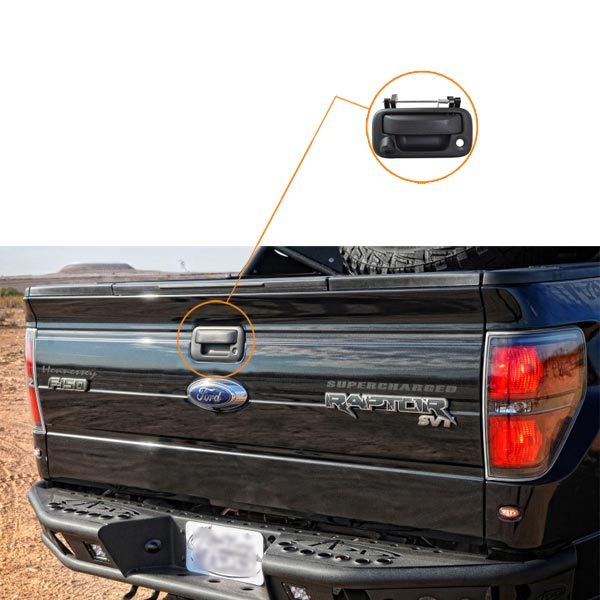 The package comes with the tailgate handle camera, installation cables and a screw kit.
The video output is standard and can be easily fitted to display on most standard monitors.
If your truck already has a video monitor mounted, then you are ready to go.
All you need to do is to fix the camera, then run the cables into your truck's cabin, connect the video feed wire to your camera's input, and you are done.
Pros:
170 degrees viewing angle.
Weatherproof camera system which is IP67 certified.
Night vision capability with 0.5 Lux minimum illumination.
Box Contents:
1x color & weatherproof Ford tailgate handle camera
1x 10 meters long camera cable in RCA connector.

Toyota Tundra Integrated Tailgate Handle Backup Camera System.
Toyota Tundra is the newest of all the trucks in this review.
The Japanese truck puts up quite well with the other American trucks.
It is big and powerful, and definitely needs a backup camera as well.
Installation is easy and can be carried out by anyone with a technical inclination.
Your original tailgate handle will have to be exchanged for this new one which contains an in-built camera.
You will then have to run the wiring harness to the front of the truck, and into your cabin.
The wiring harness also contains a signal wire for activating the camera system once the reverse gear has been engaged.
Any compatible monitor can then be used to see the video feed.
One possibility here if you haven't already bought a monitor, is to buy one with adjustable parking lines functionality.
This is because of the simple fact that this camera is not mounted exactly in the middle, so its parking guard line will always be slightly off.
For a large truck like the Tundra, this could mean some serious issues, but it can easily be corrected with a monitor that features adjustable parking lines.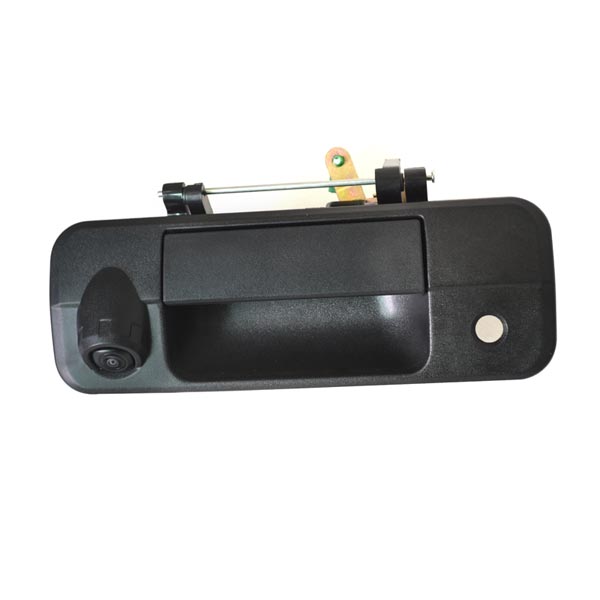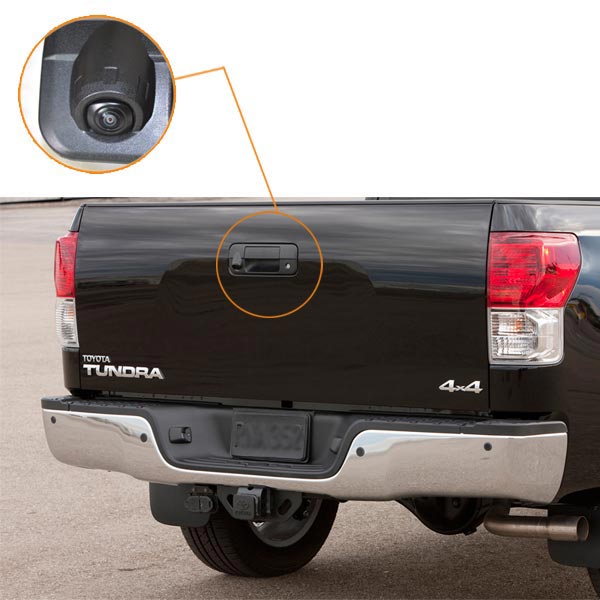 Dodge Ram Integrated Tailgate Handle Camera System
This one is specifically for Dodge Ram 4th generation trucks, starting from 2010 onwards.
The system includes a CCD camera with a 170 degrees wide viewing angle, and will enable you to easily upgrade your vehicle to a higher safety standard.
A tailgate handle camera is the best backup camera solution for trucks like the Dodge Ram.
It will enable you to gain the advantages of better rear vision, while being at the same time inconspicuous and quite cool.
It's installation process is about the same with that of the Ford and Tundra camera systems.
It comes with a wire harness that you will simply have to run to the front of your truck after installing the tailgate handle.
You are free to add a reverse trigger, as well as add other extras to your system, including a monitor with adjustable parking lines functionality, in order to increase the camera's parking guard lines' precision.
When set up properly, this camera system can be so beautifully integrated into your truck, like it were factory fitted.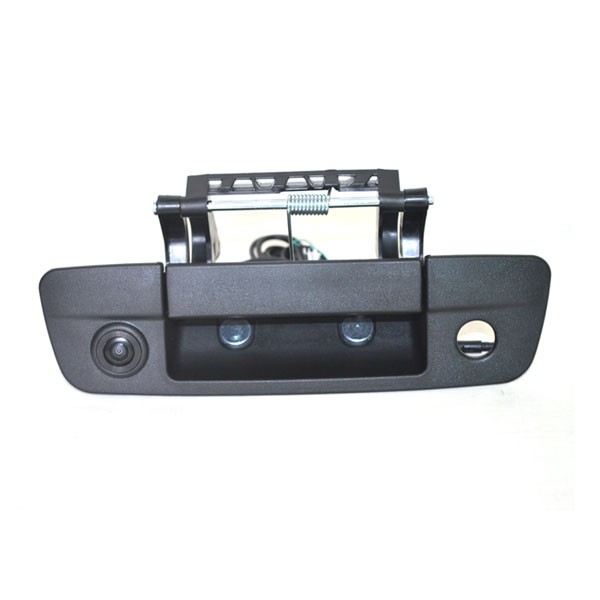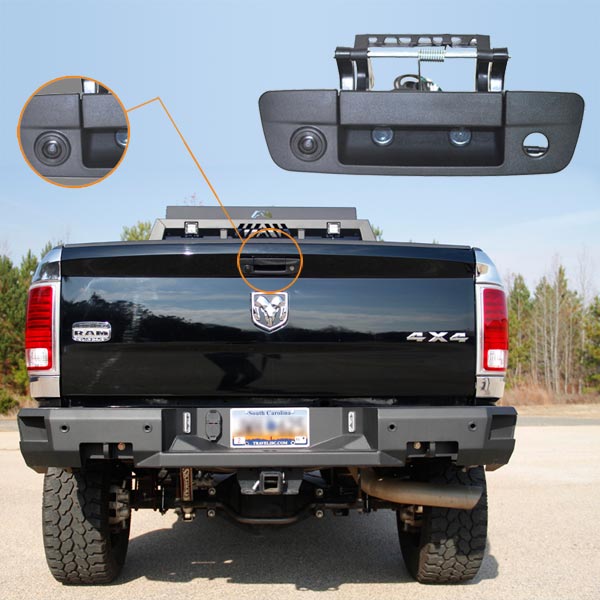 Chevrolet Silverado Integrated Tailgate Handle Backup Camera.
The Chevrolet Silverado is among the largest trucks you can drive around in.
It is huge, full of power, and truly American.
Yet as a result of its large size, backups can be quite problematic in confined spaces or in areas with obstacles.
The solution to the problem is of course, a backup camera.
And which better place to have it installed, than in the tailgate handle.
You can of course have your Silverado factory fitted with a tailgate handle camera.
But if you missed out on that, then you can use this OEM kit to install a truly identical system, which incidentally, is also cheaper.
It features a color video output, a great night vision capability, a mirrored image functionality, and it is 100% weatherproof.
Unlike the other systems in this review, this camera has a minimum illumination of 1 Lux.
It comes with a 15 ft. long installation cable, an instructional manual and an installation kit.
The installation is straightforward like with the other systems.
It will work with most video monitors and you can set it to either be always on, or to be only switched on when in reverse.
A video monitor with adjustable parking lines can also be of much advantage.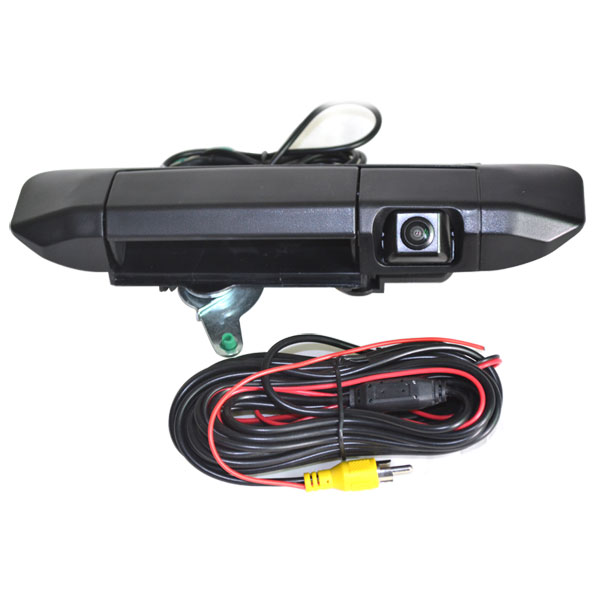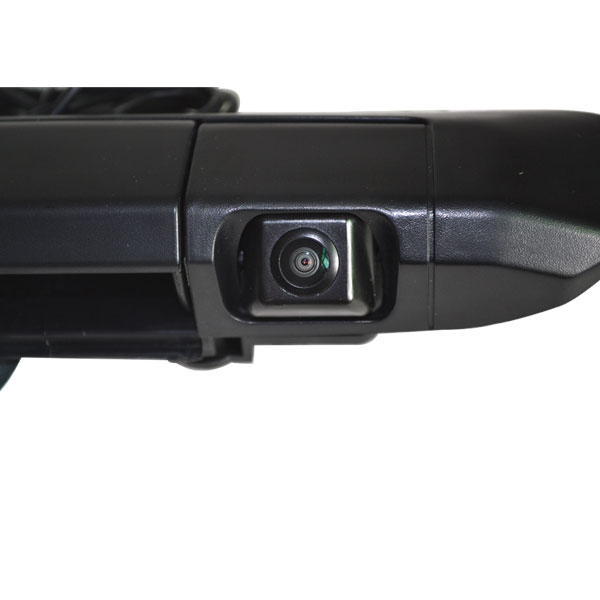 Following are the major features of tailgate handle backup cameras:
-Perfect OEM Fit
There are many different styles of backup cameras, including number-plate and roof-mounted models.
OEM, which stands for Original Equipment Manufacturer, is used to market products of equal quality or engineering, to original brand name products, although the OEM product will not include the brand name.
With tailgate handle cameras, this means that you will be receiving a tailgate camera that is at the very least, 99% compatible with the original camera system that your truck's maker installs.
-Video Resolution
Video resolution refers to the number of image pixels in the video feed, defined as the number of horizontal pixels multiplied by the number of vertical pixels.
It determines the quality of the picture, because the higher the resolution, the clearer the image will be.
All cameras in this review have a 648×488 pixels resolution, which is enough to produce crystal clear images in most video monitors.
-Night Vision
Night vision capability in a truck backup camera can be quite beneficial.
By using infrared LEDs to illuminate the night, the image sensors can pickup even more infrared heat signatures as they bounce off objects.
This is transformed into a human viewable image, thereby making night vision a possibility.
-Weather Proofing
All four cameras pass the ip67 rating, and can withstand rain, water splashes, and dust.
They can also withstand rock impacts and other harsh weather conditions.
-Field of View
A camera system's field of view refers to how much visual imagery or information that the camera lens can pick up and relay as video.
A camera's field of view is measured in angles, and for purposes such as a backup camera.
Wider view angles are better because they capture more information and relay them to the monitor.
Such extra information can save lives in certain situations.
Three of the cameras in the review have 170 degrees wide viewing angles, while the Chevrolet camera has a 150 degree viewing angle.
-Warranty
All the four camera systems in this review come with 1 year warranties.
Being backed by a manufacturer's warranty can be quite meaningful for a product.
Because it proves that the manufacturer is very confident in the design and engineering of said product.
Conclusion
If you are the owner or the driver of a big truck, then you must know the benefits of having a backup camera for safety purposes.
If your truck is a Ford F-150, F-250, F-350, F-450 or F-550, then the first camera system should be perfect for you.
Same goes for Toyota Tundras from 2007 to 2013, the second camera system will be their answer.
The Dodge Ram from 2010 onwards will benefit from the third camera, and Chevrolet Silverado trucks, from the fourth, and last camera system.